1. You can block other users
If you are experiencing harassment, being bullied or receiving unwanted contact on Snapchat, there is an option to block users. Blocking users will prevent them from sending Snaps, viewing Chats or seeing your Stories. You can also delete users from your contact list. Deleting users will remove them from your contact list and will prevent them from sending you any messages.
How to delete someone on Snapchat 

2. You can report abuse
In addition to blocking and deleting other users, Snapchat does have the option to report abuse. Users should report any inappropriate content they come across, harassment or bullying to Snapchat. There is a dedicated section on their website for reporting abuse/inappropriate content.
 
3. You can save Snaps
What makes Snapchat different from other apps is messages disappear after a certain amount of time. But not everyone is aware that Snapchats can be captured and saved. While the Snapchat app doesn't have this option there are many third party apps available which can be used to capture images on Snapchat. Users can also screenshot images on their phone, however Snapchat usually lets a user know if this has happened.
4. You can share your location
Snapchat allows users to share their location with their friends/contacts using the Geofilters function. If a user has their location services enabled on their phone and has filters turned on within Snapchat settings, it is very easy to share your location. Users can simply share their location by swiping right on the Snap they wish to share. This option can be disabled by ensuring your phone's locations settings aren't enabled, you can also turn off filers in the Snapchat settings.
How to disable Geofilters on Snapchat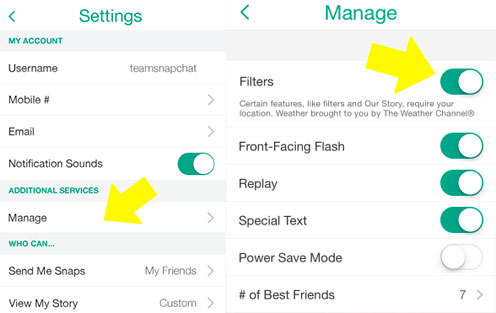 5. Saving inappropriate Snaps could get you into trouble
Snapchat can also be used by teens to send intimate images. Many young users may not be aware that saving or sharing of certain images could land them in trouble. It is an offence to create, possess, or distribute explicit images of anyone under 17. This could result in serious consequences including  criminal prosecution. In cases of self-generated sexting content or 'nude selfies', the person him/herself can be the creator, distributor and possessor of illegal content. In these cases the Gardaí tend to take a common sense approach. In addition, under data protection law, individuals have the right not to have their personal data, including their image, collected and published without consent. Anyone who publishes private content, received via sexts, online could be seen to be violating data protection laws and could have a civil lawsuit brought against them.